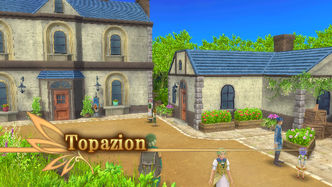 "A remote village near the northern tip of the Empire. A small population lives close to an evergreen forest, in harmony with the local wildlife. Their lives are frugal at best, yet the villagers are honest and hard-working."
"Topazion is the northern-most settlement within the Empire, surrounded by abundant plant life. A beautiful lake lies to its northwest, where it is said that something shiny is occassionally found among the frolicking water fowl."
Topazion is a small village in Meridian Empire, south of Retea Forest.
In the Story
Edit
Reaching Topazion, L'Arc learns that Ryfia is from the Turemilian Republic. After she nearly faints, he decides to take her to rest at the town's inn. The two meet Alf, L'Arc's childhood friend and the Second Prince of the Meridian Empire who had been searching for L'Arc after he went missing.
While Ryfia is resting, L'Arc explains what happened after he fell from the Lightship. Alf asks him to check in with the Village Elder to make sure the town is properly protected given the near-miss with the fallen Feldragon. While speaking with the Elder, L'Arc requests a doctor to see Ryfia.
Returning to the inn, Ryfia is revealed to have Dragon Gems attached to her body, and explains that her mother told her to go to Jada. Suspicious of a foreigner entering the city that houses the Empire's main energy source, L'Arc initially refuses, but Alf allows it.